Join us on 1/19 via Zoom for a double lecture about rental housing in Latin American settlements.
The times are as follows:
19:00 São Paulo, 17:00 New York, 16:00 Mexico City, 19:00 Santiago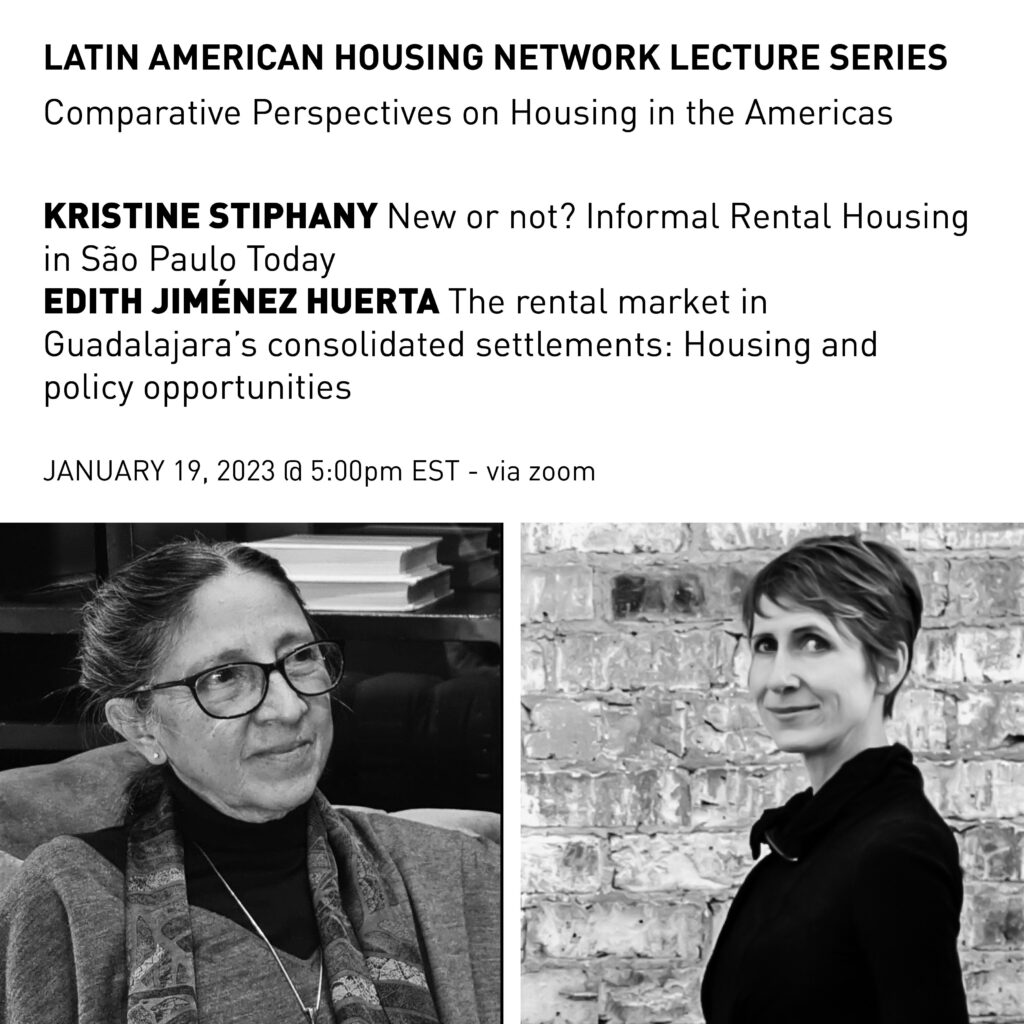 On January 19th, Edith Jiménez Huerta and Kristine Stiphany will explore the nature of rental housing in Latin America, focusing on the interactions between buildings and under-resourced communities in Guadalajara and São Paulo. After the lectures, Peter M. Ward will moderate a discussion about the planning and policy implications of rental's changing tenure, urban form, and access.  To access the lecture, you can connect to the conversation with this zoom link at 5:00pm in New York, 4:00pm in Mexico City, and 6:00pm in São Paulo. You can access our previous lectures here
Edith Jiménez Huerta

ORCID: 0000-0002-1636-9326
Research Gate:https://www.researchgate.net/profile/Edith-Jimenez-Huerta-2

Edith Rosario Jiménez Huerta is a Mexican architect, planner and sociologist living in Guadalajara. Her research interests center around housing for the low-income population, with a focus on issues of informal housing inheritance in the context of Mexico. She holds a Bachelors degree from the National Autonomous University of Mexico), a Masters degree in Urban Development Planning from University College London, and a PhD in Sociology from Essex University. Recently Dr. Jiménez was a Visiting Researcher at the University of Texas in Austin, and has led several research projects sponsored by CONACYT (the Mexican National Council for Science and Technology). Dr. Jiménez is a founding member of the Latin American Housing Network, a regular member of the Mexican Academy of Science, and was distinguished by CONACYT as a "National Researcher" (SNI) for an uninterrupted period of 31 years.

The abstract of her talk as follows:

People in consolidated low-income settlements have often built one, two or more housing units on the same plot, to house their families, or to rent out in order to gain income. This multiplication of dwellings has been taking place largely informally without the support of government policies: in fact, it often occurs despite them. The process accelerated two decades ago when government economic and low-income housing gave virtual carte blanche to developers to develop high density mass-housing estates on the periphery of Mexican cities. However, around half the national population of the country do not qualify for formal housing credits or cannot afford to buy these new houses. With no other option offered by the private or public sectors, people have been pushed more and more to turn back to the city, to the older established low-income settlements, thereby increasing the demand for rental dwellings. As a result, today we see the building of new housing units, apartments and rooms, often created informally which has led to multiple challenges of physical design and construction of the new dwellings, the need for appropriate regulations to protect users, and the need to address tenancy and owner tenure insecurity related to inheritance of the property when the owner/subdivider dies.  Yet while the desirability for the densification of urban space is widely recognized, public policy is largely absent about the processes of housing sub-division and new-found renting, especially  in the older low-income consolidated settlements.

El mercado de alquiler en asentamientos populares consolidados, Guadalajara: Oportunidades habitacionales y políticas
 Las personas en asentamientos consolidados de bajos ingresos a menudo han construido una, dos o más unidades de vivienda en el mismo lote, para albergar a sus familias o alquilarlas para obtener ingresos. En gran medida este "desdoblamiento" o multiplicación de viviendas se ha venido dando de manera informal y sin el apoyo de políticas gubernamentales: de hecho, muchas veces a pesar de ellas. El proceso se aceleró hace dos décadas cuando las políticas económicas y de vivienda social del gobierno dieron virtualmente "carta blanca" a las inmobiliarias para desarrollar urbanizaciones masivas de viviendas de alta densidad, dispersas en la periferia de las ciudades mexicanas. Sin embargo, alrededor de la mitad de la población nacional del país no califica para los créditos formales de vivienda, o no puede comprar estas casas nuevas. Sin otra opción ofrecida por los sectores público o privado, las personas se han visto orilladas, cada vez más, a quedarse en la ciudad o incluso regresar a ella. Aumentando así la demanda de viviendas de alquiler en los asentamientos consolidados de bajos ingresos. Como resultado, hoy vemos la construcción de nuevas unidades habitacionales, departamentos y cuartos, muchas veces creados informalmente. Esta situación presenta múltiples desafíos relacionados con la remodelación de las viviendas existentes y la construcción de las nuevas. De ahí que sea preciso contar con una normatividad adecuada para proteger a los usuarios. Otro asunto de vital importancia es dar alternativas para evitar la inseguridad en la tenencia de la propiedad y de los ocupantes. Es preciso normar la sucesión de las diferentes propiedades en vida, pero especialmente después de que fallece el propietario original. Sin embargo, mientras que la densificación del espacio urbano es ampliamente reconocida como deseable, y la densificación se está dando en estos asentamientos, la política pública está en gran medida ausente de los procesos de subdivisión de viviendas y de los arrendamientos en las colonias populares consolidadas.
Kristine Stiphany

www.kristinestiphany.com
Research Gate:https://www.researchgate.net/profile/Kristine-Stiphany

Kristine Stiphany, PhD, AIA, is an architect and urban planner who investigates the social, technical, and cultural dimensions that shape urban redevelopment in the Americas, with a focus on housing informality and participatory technologies in Brazil and along the U.S. – Mexico border. Stiphany is a Fulbright Fellow, the founder of the Chapa Civic Data Lab, co-editor of the Latin American Housing Network, and recipient of several design awards, most recently from the Texas Society of Architects. Stiphany has published in Urban Studies, Journal of Architectural Education, Latin American Research Review, and the Journal of Planning Education and Research, among others. She received a PhD in Urban Planning from the University of Texas at Austin, where she also earned a Master of Architecture, and a Bachelor of Fine Art in Photography from the University of Michigan.

The abstract of her talk as follows:

A significant proportion of the built environment on Latin American urban peripheries is rental housing. Although in many respects rental housing today is like past variations, my research in São Paulo reveals important differences that significantly impact access to housing and urban livability. I present a typology of diverse rental housing types, and on this basis, outline steps that governments should take to adapt rental's highly dynamic built environments before it is too late.  

Novo ou não? Revendo habitação de aluguel

Uma proporção significativa do ambiente construído nas cidades da América Latina é habitação para aluguel. Embora as moradias para aluguel hoje são semelhantes às variações do passado, minha pesquisa em São Paulo revela diferenças físicas e sociais importantes que impactam significativamente o acesso à moradia e a qualificação urbana. Apresento uma tipologia de diversos tipos de habitação para aluguel e, com base nisso, delineio as etapas que os governos devem tomar para adaptar os ambientes afeitos por aluguel antes que seja tarde demais.
---